Tracey White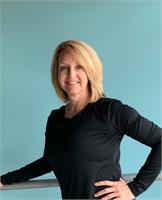 Tracey White is a veteran in the fitness industry, with a career spanning over 2 decades. While she started in group fitness and has received training in nearly every group fitness trend, she has evolved to appreciate functional movement and her clients appreciate her attention to moving well, balanced and strong before advancing. She is an ACE certified personal fitness trainer, AFFA group fitness instructor and has recently trained in the FMS, Booty Barre. She is a Level 2 TRX Trainer and is currently training in Pilates through Polestar. She is certified in Yamuna foot fitness and as a Barefoot Fitness specialist through EBFA. Lately her focus has been directed to corrective and therapeutic exercise and nutrition. She understands that clean eating is an important part of overall health Is trained as a Holistic Health Coach through the Institute of Integrated Nutrition based in NYC. She enjoys working with clients with diverse goals but has particular interest in helping those with compromised health and restoring balance through exercise and food therapy. Tracey studied at Randolph Macon Women's College and is a native to the area.
Tracey White instructs the following:
This class combines HIIT on the Spinning bike and full body strengthening and lengthening on the TRX suspension trainer. A balanced class where you will burn calories, strengthen your core and optimize flexibility. A colourful trip through perfect circles of motion, as muscles tone and the heart pumps to incredible music and instruction. Please wear athletic shoes.




This flowing class combines elements of Pilates, yoga and work at the barre to give you a complete workout. We use resistance created by a Flexband to mimic some of the repertoire done on the specialized Pilates equipment. A class emphasizing breath and movement set to music feels like Pilates but delivers SO MUCH MORE!




Hmmmm... who knows what will happen? Leap into the unknown, you KNOW it will be a great workout and lots of fun.




This cardio class has the grace and precision you'd expect from a Pilates class but you are moving and grooving with ballet inspired, functional and athletic moves. Various props will be used to add extra special toning. It is a great way to introduce yourself to the barre.




Paying homage to our northern neighbors- It is Boxing Day! We will deliver a sweaty, heart-pumping class with all kinds of body weight training, jump ropes, cardio drills and fun! A great way to blow off some steam and kick and punch your way to a more balanced person- body and mind.




Rise and shine with this standing Pilates class. Bring the principles of Pilates into the vertical plane in this posture and balance focused class. While not exclusively standing, our mat work segments will bring the translation of Pilates to life standing. This full body workout will use various props to lengthen and strengthen your whole body and develop a functional balanced body.




Find your rotational power and develop functional strength with this core-centric class. We will NOT ONLY use the TRX , but also the Rip Trainer, medicine balls and your own body weight.