Tracey White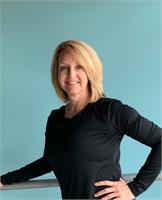 Tracey White is a veteran in the fitness industry, with a career spanning over 2 decades. While she started in group fitness and has received training in nearly every group fitness trend, she has evolved to appreciate functional movement and her clients appreciate her attention to moving well, balanced and strong before advancing. She is an ACE certified personal fitness trainer, AFFA group fitness instructor and has recently trained in the FMS, Booty Barre. She is a Level 2 TRX Trainer and is currently training in Pilates through Polestar. She is certified in Yamuna foot fitness and as a Barefoot Fitness specialist through EBFA. Lately her focus has been directed to corrective and therapeutic exercise and nutrition. She understands that clean eating is an important part of overall health Is trained as a Holistic Health Coach through the Institute of Integrated Nutrition based in NYC. She enjoys working with clients with diverse goals but has particular interest in helping those with compromised health and restoring balance through exercise and food therapy. Tracey studied at Randolph Macon Women's College and is a native to the area.
Tracey White instructs the following:
A true circuit class to set your weekend off on the right foot! An invigorating mix of cardiovascular exercise, strength and flexibility training. It is a grab bag of FUN! TRX, Rip, Ropes, barre. Set your weekend off right!




Leave this class feeling quite accomplished with the heart pumping, muscle lengthening core focused goodness! We warm up at the barre and get on the Spinning bikes to put our best cardiovascular effort forward. For the perfect ending, we're back at the barre for some dynamic flexibility moves, core and upper body toning.




This cardio class has the grace and precision you'd expect from a Pilates class but you are moving and grooving with ballet inspired, functional and athletic moves. Various props will be used to add extra special toning. It is a great way to introduce yourself to the barre.




Take your TRXing to the max, maximum benefit, maximum safety and maximum effectiveness. This bootcamp styled class will incorporate HIIT (high intensity interval training) Tabata fun, TRX, Rip Trainer, ropes, and bodyweight exercises. All levels are welcome




Get your day off to a STRONG start with a mix of weights, sandbells/bags, kettlebells and your own bodyweight




This flowing class combines elements of Pilates, yoga and work at the barre to give you a complete workout. We use resistance created by a Flexband to mimic some of the repertoire done on the specialized Pilates equipment. A class emphasizing breath and movement set to music feels like Pilates but delivers SO MUCH MORE!