Intermediate Pilates matwork
This class is taught by: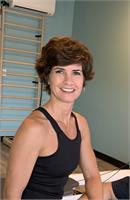 Alaya is the co-owner and program director of Iron and Grace and a recognized fitness industry leader. Her expertise draws from nearly 20 years of diverse education, training, and experience in fitness and wellness. She studied Viniyoga in 1994, not intending to have it set her on a health and fitness educator path, then became a certified personal trainer and Spinning instructor in 1995 and has since dabbled in most fitness trends over the years. When she discovered Pilates in 1998 it revolutionized her approach to all of her fitness endeavors. She was first certified via the Physical Mind Method and later by STOTT PILATES and is fully certified in all equipment and qualified to teach people who are rehabilitating and have other special needs. She is one of the first instructors worldwide to have received the esteemed honor of being an Instructor Trainer in the STOTT PILATES method. In that role, she travelled the world teaching certification courses, presenting and working fitness industry tradeshows for 12 years. She believes in the heart of Joe Pilates' work and its ability to bridge the gap between medicine and movement, following that belief, she's sought education in various brands of Pilates and is pre-trained in Gyrotonic expansion and gyrokinesis. Alaya is engaged and passionate about the study of movement and healing and continues to seek innovative and cutting edge education. Beyond Pilates and yoga, Alaya is trained in TRX, Rip Training, Anatomy Trains, Z health performance solutions, Pink Ribbon Program, Booty Barre, Total Barre, Reiki, FMS and Thai massage. She is also a USAW certified strength and conditioning coach.
Her breadth of knowledge is applied to assure that all her students reach their goals safely and effectively.
This is a focused flow-a quintessential Pilates matwork class delivering straightforward repertoire to build a strong center and balanced strength and length. We will integrate classic Pilates props like arc barrels, fitness circles, weighted balls, etc. Previous Pilates experience required
Upcoming classes: