TRX Circuits
This class is taught by: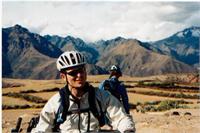 Chad is the Co-Owner, CFO and kettlebell trainer at Iron and Grace. He personally found the kettlebell to be the most effective way to build strength, flexibility and speed and it was much more fun than traditional weight lifting. To that end, he was inspired to take the grueling, gold standard RKC certification in 2009. He is trained to work with the TRX, Rip Trainer and and rope undulation. Being a lifetime athlete, teacher and a father gives Chad unique skills to motivate his students for an effective workout. His classes may include pieces of random historical information due to his voracious appetite for non-fiction. Chad enjoys an active lifestyle full of travel, mountain biking and time with his family.
Ashley has a strong dedication to her personal fitness as an integral part of balancing life as a mom, fitness coach and make up artist. Her interest began after the birth of her first child when she began teaching Baby Boot camps. Another child later, her passion and fire was full force and she was inspired to pursue training as a Beach Body Fitness coach and certifications in both PiYo ™ and CIZE™. She fits in great at Iron & Grace as she is passionate about her continuing education, adds a wonderful energy and understands the value of holistic health.
A true circuit class focusing on the TRX suspension trainer, but incorporating all the talents and tools at Iron and Grace. Expect a high integrity and high intensity workout appropriate for all levels. Moving from one exercise to the next, you will get an effective full body strength, cardio and flexibility workout.
Upcoming classes: